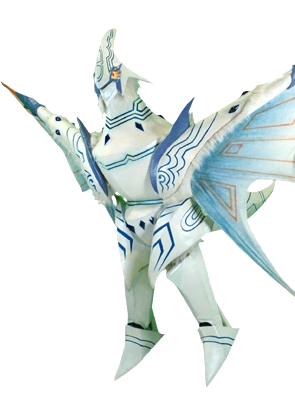 A giant deity from the confines of space and time, Unizin has orbited the Earth like a comet, appearing once every twelve years of Christmas Eve. One man by the name of Dr. Kori wanted to study Unizin after seeing the monster himself when he was a boy. Even though he was called a con artist trying to capture Unizin he never gave up his search. On Christmas Eve day, he was working on his self made radar that would find Unizin when Elly came and was shocked by the device. After Dr. Kori repaired her the two made a trap to capture Unizin. That night, the dimensional kaiju made himself known as both DASH and Dr. Kori captures it in a mystical trap, but time around him began to disappear. Kaito turned into Ultraman Max and made a barrier to slow down the process. Not wanting the graceful giant to be hurt Dr. Kori let it go, restoring everything to normal. Unizin gave the doctor the branch of a tree he had not seen in some time, whether it was intended to be given to him or a reward for releasing him was unknown, but he was grateful nonetheless.
No, not that Unizin. This Unizin. The secret university consortium is no longer secret. Phil and I wrote a few posts about the consortium before the group went public:
So far, four of the ten universities we reported were considering joining have officially and publicly joined: Indiana University, University of Michigan, Colorado State University, and University of Florida.
Here's a roundup of the news coverage:
Probably most important to read, in addition to IHE's coverage and ours, is the "Why Unizin?" blog post on the Unizin website.
There was a press call this afternoon, so I expect we will be seeing more articles over the next few days. Of course, Phil and I will be providing some additional analysis as well. Stay tuned.