I recently finished three weeks of travel to ed tech conferences – Online Learning in Toronto, WCET in Portland, and EDUCAUSE in Denver. Given the size of EDUCAUSE and its history of being the place to see the greatest number of vendors in one location, that conference is a good trigger to cover general ed tech market news.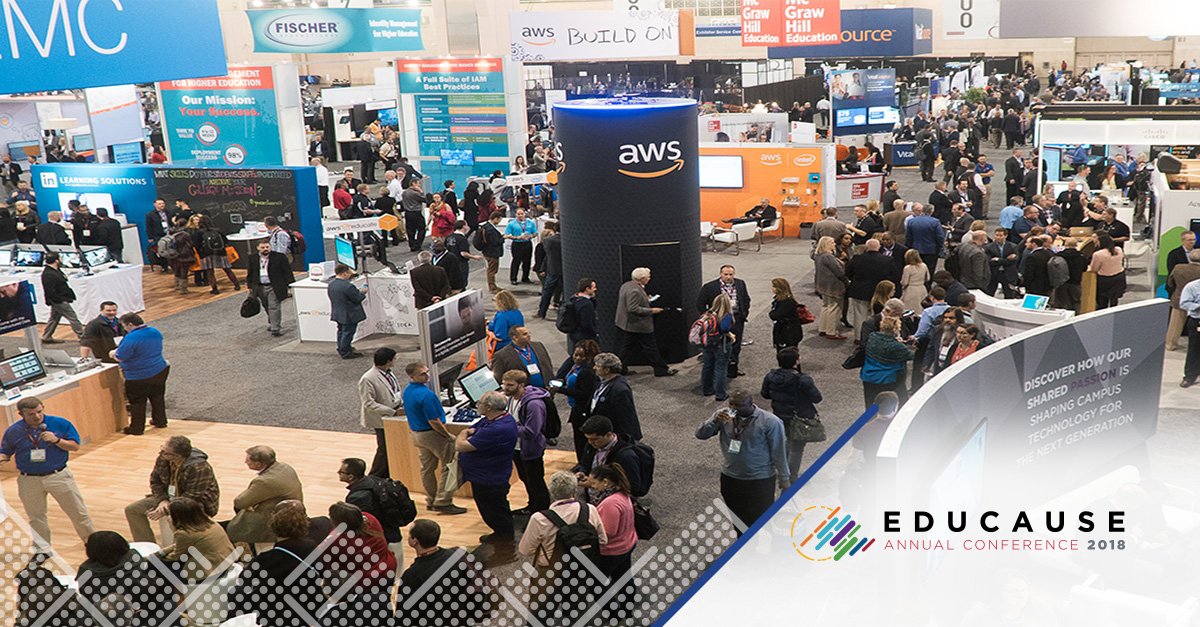 EDUCAUSE By the Numbers
John O'Brien, president and CEO of EDUCAUSE, described in his welcoming speech and in an interview how this was the largest conference yet for the organization, with more than 8,000 registered attendees including more than 3,000 first-timers. I asked O'Brien about the changing and more crowded environment for ed tech conferences – with WCET, ASU/GSV, Online Learning, various vendor conferences, SXSWedu, and others – and he indicated that more is better. In other words, EDUCAUSE does not see a need to change due to competition, as there is room for multiple conferences with different emphases.
The direction that EDUCAUSE is going can be seen in O'Brien's recent article "Strategic IT: What Got Us Here Won't Get Us There". In this view, technology is integrated, so the organization and conference must bring in decision-making from outside the IT organization.
To fully realize the value of information technology as the strategic asset it is, we must embrace strategic IT. What got us here, a remarkable utility mindset, will no longer suffice. Instead, higher education leaders must consider the role and placement of information technology in the strategic fabric of their institutions.
Based on interviews with O'Brien as well as multiple sponsoring vendors on the exhibit hall, these are the key numbers:
Total attendance of 8,018
Of these almost 5,900 opted to share registration info, implying that 2,100 opted out of sharing info (and I assume that the vast majority of the 2,100 are from higher ed schools)
Just over 3,000 were first-time attendees
Almost 2,700 were from vendors, both as sponsors / exhibitors and paying attendees to walk around; another 200 or so were from foundations, media, associations, and other organizations
Therefore 5,000 – 5,100 attendees were from institutions of higher ed, with more than 300 of those attendees from outside the US
In 2017:
Total attendance of 8,000
More than 1,600 first-time attendees
More than 6,900 opted to share registration info
There is somewhat of a disconnect, however, in that the exhibit hall certainly didn't feel crowded or busy, at least compared to previous years. Most vendors I talked to described traffic at booths somewhat healthy but not at a peak for this conference. I also do not know why the registration list from last year had more 1,000 more than this year. I have asked EDUCAUSE for commentary or clarification on the attendance numbers; while their PR firm did respond to my email, I have not received any updates on the numbers other than saying "it cannot be assumed that the opt-outs were from higher education schools".
One other disconnect was noted by Josh Kim at Inside Higher Ed in his post about the EDUCAUSE Top Ten IT Issues list released at the conference.
Curious About the Lack of Overlap with the ELI 2019 Key Issues in Teaching and Learning List:

Perhaps the existence of the ELI Key Issues list exempts the EDUCAUSE mothership from putting teaching and learning related issues on its list. I still read the lack of teaching and learning issues as curious. How could it be that academic transformation is everywhere in the ELI community, and nowhere to be found in the IT list? Maybe the EDUCAUSE list should have one entry that says "see the ELI list."
I see the same issue where the EDUCAUSE "mothership" in many ways does not directly speak to teaching and learning issues, which is confusing given the direction the organization is taking. When I asked John O'Brien about this situation, he indicated that they have been increasing their emphasis on T&L issues at the leadership level. The answer is not that EDUCAUSE wants to point all T&L issues to ELI, but the integration is a work in progress, I suppose.
Big Tech Companies
Moving beyond the numbers, what struck me the most was the increasing presence of Big Tech at the conference. Amazon, Microsoft, Google, IBM were all there in force, with an increased focus on education as a vertical market. Only Apple was missing.
The question, especially for Google, is how much they plan to fully jump into higher education as opposed to dabbling in the market with a 'let's see how this tech gets used' approach of the past. I get conflicting messages in this regard, at least for Google. For example, I asked a sales lead in the booth about Google Classroom and whether they plan to push this into the higher ed LMS market. He answer was clear that Classroom belongs in the K-12 market, but in higher ed they have no need to try and displace Canvas, Blackboard, D2L, Moodle, et al. For higher ed, they plan to use Course Kit, their set of tools integration G Suite with the campus LMS, to incrementally get more exposure. When I talked to one well-known university CIO, however, he said that Google is responding to his push to fully jump in and even expand Classroom usage as an LMS alternative. Don't treat this as a full description of the issues but rather one example of mixed messages.
Microsoft and Amazon, however, are really expanding their higher ed solutions and market presence.
In years past, EDUCAUSE exhibit hall was dominated by the ERP companies plus Blackboard and the publishers. In the ERP space, Oracle, Workday, Ellucian, and Jenzabar had large booths and aggressive marketing presence. Yes, I mention Jenzabar in that group, at least in terms of conference booth and marketing presence. Expect more on that story in the coming months.
Moodle Presence
For the first time, Moodle HQ had their own booth at the conference rather than solely relying on Moodle Partners for messaging. In fact there was a mini-Moodle alley at the left side of the hall, with eThink, Moodle HQ, and Moonami all together. This marketing move is significant after last year's funding round of $6 million for Moodle HQ and this year's news of Blackboard / Moodlerooms leaving the Moodle Partner program. I don't know how far this new marketing spend will go in influencing LMS decision-making at colleges and universities, but it is significant that the world's largest LMS is now spending money to raise awareness of what Moodle currently offers and what it can be.
Additional Notes
If you ever wondered how many 20-somethings you could possibly fit in one large conference booth, I hope you visited Splunk to see the answer.
Cybersecurity – both in terms of protection / audit services as well as content for training and certificates – was another area with increased emphasis this year.
In a strange way, video is becoming a crowded market (again). Lecture capture, streaming, synchronous collaboration tools, etc. Where did this new market investment come from?
At the booth with the punching bag game, I should have invited 35-year-old Phil to be competitive with the eThink and Moodle guys. At least, I'll pretend that this was the issue.
Update 11/21: Clarified response status from EDUCAUSE at their request.