Please License Your COVID-19 Resources CC-BY or Public Domain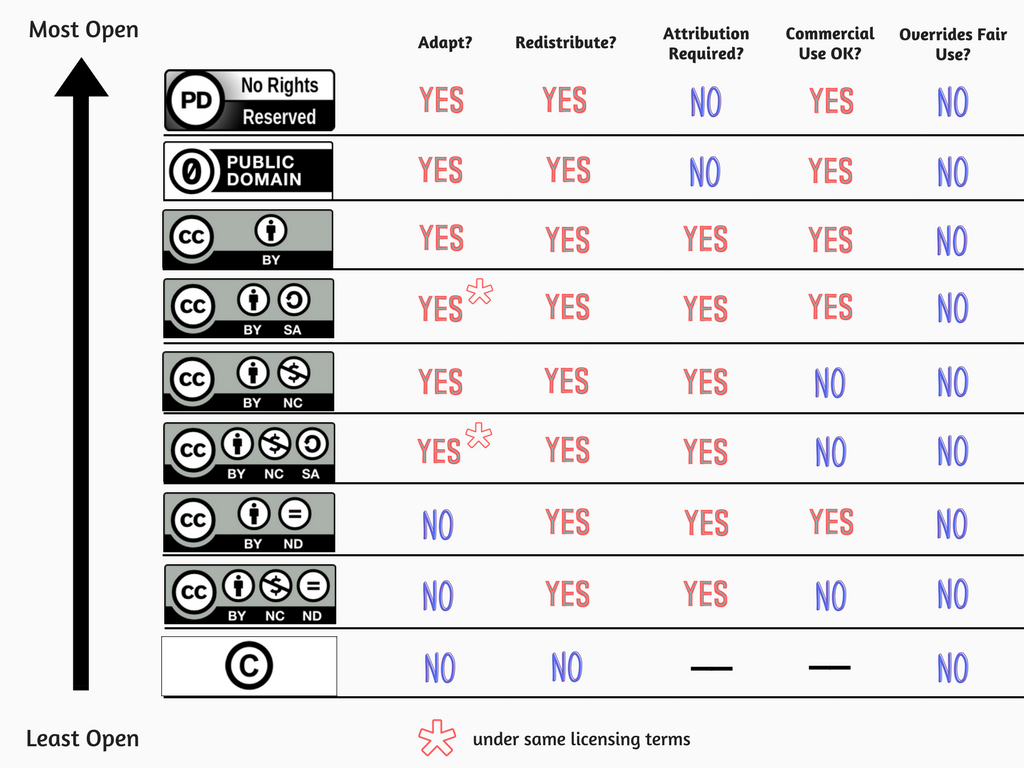 I've started sorting through the generous mess that is the COVID-19 educational resource sharing with an eye toward a lasting resiliency network that I wrote about yesterday. One good place to start (of many, I'm finding) is Lumen Learning's list of recommended resources.1 While Lumen is sharing their curation free with everybody online, one of the strengths that the commercial providers offer during this time of crisis is that they also often have fairly direct lines of communication with their customers. Their survival depends on their ability to cut through the noise and reach particular people with well-targeted messages. In times like these, their communications and marketing teams can be turned into information distribution networks. We need to reach educators efficiently with high-quality information. We need these distribution networks.
Right now, a lot of EdTech companies are doing what Lumen is doing. They are curating their own lists of content and getting them out to their customers. Many of these resources are being produced by and for academics. The companies are curating and distributing. Ideally, we would be working as a sector consistently, over time, to create and organize educational resiliency content that organizations with effective distribution capabilities. These could be commercial providers, universities, or professional associations. The most important thing is to get high-quality information to people who need it at their moment of need.
In this kind of situation, we should reduce the friction of sharing as much as possible. One source of friction is licensing. People that want to share high-quality content created by others need to consider whether the creator has granted them the right to do so. That is the law, and it is also the right thing to do. But it is a source of friction to sharing. If your top priority is to create content that will reach and help as many people as possible, then you should reduce that friction as much as possible.
There is a simple way to do that. First, make sure that your content bears an explicit license that grants sharing rights. Don't make people come to you and ask for permission. Second, choose the most permissive license that you can justify. The most permissive license possible would be a public domain mark. This simply says, "I am giving this to the world and don't need credit or payment. Please use it." The second-most permissive option would be the Creative Commons Attribution license (CC-BY). This license says, "I am giving this to the world, and all I ask in return is that you give me credit for my work." Either of these licenses will enable the broadest range of distribution networks to pick up your contribution with as little friction as possible.
I do not recommend Creative Commons license conditions such as Non-Commercial or Share-Alike for this kind of resource. Non-Commercial (CC-BY-NC) is the worst. If a commercial entity shares your CC-BY-NC-licensed resource to their customers and they don't charge for it, is that commercial use? Nobody knows. So commercial entities have both legal and ethical reasons to be cautious about sharing CC-BY-NC resources. Share-Alike (CC-BY-SA) is not quite as bad but also problematic. Again, if a commercial entity, or even a professional association, wanted to bundle your resources with some of their copyrighted material in order to help educators in their time of crisis, could they do it under this license? Do you want to prohibit that use?
The Non-Derivatives clause (CC-BY-ND) if you're worried about a piece of information with your name on it being chopped up in ways that you don't approve. But every restriction clause creates a trade-off in terms of broadest use. Please think carefully about potential trade-offs with the ones that you impose.
I am not making the blanket argument that all educational resources should be licensed CC-BY or public domain (although the argument could be made). I am urging my readers—both academic and commercial—to explicitly contribute as much of your crisis support content as possible under as permissive a sharing license as possible.
Disclosure: Lumen is a sponsor of the Empirical Educator Project. [↩]